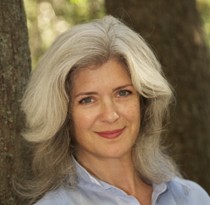 Andréa Bond, Massage Therapist
During a hiatus from life as a professional musician (classical vocalist), I discovered massage through my love of meditative practices & other personal growth/healing modalities.
I studied Swedish Massage and Tui Na at the Pacific College of Oriental Medicine in San Diego in 1996. This followed with a 3 year mentorship with Dennis McCoart, a master Neuromuscular Therapist who's one-on-one instruction was both broad and deep and incorporated trigger point theory, physiology, deep and focused tissue work as well as passive stretching and postural analysis. In 2001, I studied sound healing techniques with Diane Mandel and began incorporating Tibetan Bowl Sound Healing into my practice.  In 2016 I began a new study of Myofascial Release Therapy with John Barnes.  Let's just say, it is blowing my mind and I will soon be offering MFR to my clients.
Relevant to the aspect of mind in the body-mind connection, I became a dedicated student/practitioner of Non-Violent Communication & Heartmath beginning in 2002/2003. These have given me the growing skills of empathy and tools for stress reduction. In 2006, I began an intensive study of the 12 Brain/Mind Principles of Natural Learning, eventually co-facilitating workshops with the founders (Dr. Renate N. Caine and Geoffrey Caine), and currently am on the board of the The Natural Learning Research Institute, the not-for-profit of the founders.
Working on clients for 20+ years has been crucial in building my skills. I continually learn more and love it. My work integrates all of my skills – body and mind – to create a tailored experience. I love what I do, and I truly care about my clients needs.
Working on clients over the years has taught me that:
• presence, listening and having a feeling of care are foundations for healing;
• it is necessary that I have both care and skill to affect the healing process.
• what might work for one person may not work for another;
• subtlety, rather than force, is often the greater healing tool (the old idea, "No pain, no gain" is not always true);
• massage therapy is only one component within a larger and more comprehensive healing plan (clients who are pro-active and willingly participate in their healing process have better results);
• we must be detectives together; and
• a long-term client/therapist relationship can give me, the therapist, a better understanding of a client's issues and uniqueness.
I am a life-long learner and my clients (as well as my own body/mind issues) inspire me. My current area of study is John Barnes' Myofascial Release Therapy.